To exchange your vows encompassed by the beautiful scenery of nature in a vibrant garden wedding must be the most unforgettable thing a bride can do. Here are some superb ideas to help you create a beautiful  garden wedding you and your guests will remember for a long time.
Floral Wedding Invitations
Every element of your wedding from stationery, floral arrangements, your outfit, your bridesmaids' outfits to wedding favors, flower girls attire, groom boutonniere,  should all complement each other and be inspired by your wedding theme. So what your wedding invitations look like do matter.
Set the tone of your wedding with your wedding invitations. For a garden party theme wedding, you can opt for watercolor floral designs. The flower colors can be coordinated to bridesmaid dresses or the overall color scheme of wedding Or you can go for floral bouquet design in soft or bright colors.
Floral Wedding Dresses
Go for a wedding dress adorned with a stunning three-dimensional floral design within the same fabric as the dress. Traditional brides will love vintage organza dresses of the 50s- decorated with fabric flowers in their full skirts (think Oscar de la Renta). A modern bride is sure to go for an elegant wedding dress with beautiful flowers cascading over her shoulder, or a lovely silk organza dress with exquisite pearl bridal jewellery.
The bridal hair accessories can be designed in the shape of little pearl flowers to add glamour to the bridal look.
Centerpieces
When making a centrepiece for a garden wedding, make sure to go for vessels that highlight your garden wedding theme. For a more sophisticated event, well-designed garden urns filled with fresh flowers and greens are perfect for centrepieces and decorations of the ceremony. You can also go for a more informal taste with galvanized buckets or colorful enamel tin can centrepieces
Garden Wedding Altar
Another great idea for your garden wedding is to have the event altar in a gazebo. This classic garden feature can be rented if there is none in your wedding venue. Of course, the perfect decoration for the gazebo is lots of beautiful flowers. Another solution is to create a ceremony place under a tree and hang long flower chains from the tree to mark the spot for the couple. This creates a beautiful background for the wedding ceremony and photographs.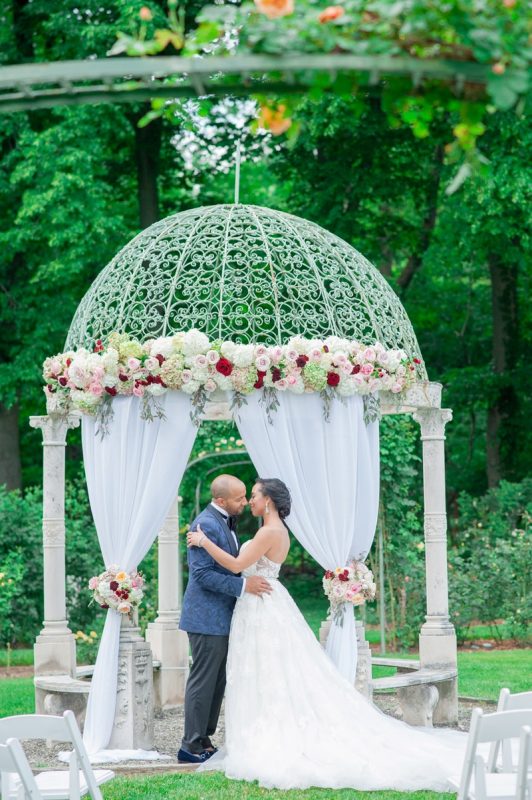 Garden Wedding Cakes
Garden Wedding Favors
Incorporate your wedding theme into your favor of choice by presenting your guests with garden related gifts. Example of such gifts includes mini watering cans and small vases of fresh flowers. These beautiful favors will make for a perfect finish for your vibrant garden party wedding.
Categories: Home, Plan Your Theme Wedding, Wedding Cakes, Wedding Decoration, Wedding Dresses, Wedding Flowers, Wedding Invitations, Wedding Planning, Wedding Trends
Tagged: garden themed wedding dresses, garden themed wedding reception ideas, garden wedding decorations pictures, garden wedding ideas budget, garden wedding inspiration, garden wedding photos, garden wedding pictures, garden wedding theme colors, garden wedding theme ideas, garden weddings decoration ideas, indoor garden themed wedding, outdoor wedding decorating ideas, outdoor wedding decoration ideas on a budget, outside wedding decorations, simple outdoor wedding ideas
Date: May 14, 2017